What happens to my pet if I die?
Recently a cat sitting client told me, "I finally have a cat who will outlive me." Which started me thinking, "I wonder how many of our clients have given this some thought?"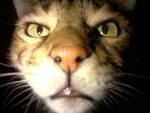 What would happen to my pet if I died today? Would anyone know about her food, her medications, her allergies, her fears, her favorite activities? Like wills and funerals, this is a subject many of us prefer to put off thinking about, let alone acting upon. But a few easy steps can give you peace of mind and ensure that your furry friend is cared for if something happens to you unexpectedly.

Create a plan.
List everything you can think of pertaining to your pet: dietary, medical, and behavioral issues. Include favorite toys and games. Consider including the name and phone number of her pet sitter, who will know how to help make her feel secure at a stressful time.
Make a list of family and friends, everyone you think might be willing AND able to take in your pet in the event of your death. Think about this carefully. If your cat hates or fears children, don't ask someone with small children. If your dog needs tons of exercise, don't ask a couch potato. Don't list anyone who lives in an apartment where pets are prohibited. But do list as many possibilities as you can think of.
Share your plan.
Have an honest conversation with the top contenders. You may find your first and second choices are less than enthusiastic, and your third choice may surprise you with his/her willingness to take in your pet. But make sure you have this discussion in advance. And don't hold back. No surprises. Make sure your prospective caregiver knows EXACTLY what's involved.
Finance your plan.
If possible, start now to set aside money for pet expenses. It may not be a dealbreaker, but knowing there are funds available to care for your pet after you're gone may ease the anxiety of your potential caregiver. It may also ensure that your pet doesn't go without needed medical care somewhere down the road. Consider your pet's breed, age, and health, then try to plan for the life of the pet. Include not only food and medical bills, but toys, pet sitters, boarding, etc.
Legalize your plan.
Provide for your pets in your will. Otherwise, your legal heir will decide your pet's fate. What happens if that person hates dogs? Or cats? Or your pet particularly? Healthy, well-adjusted pets have been put to sleep by next-of-kin who didn't want to be bothered.
Activate your plan.
Carry a card in your wallet with the names and phone numbers of your pet's caregiver and of friends or family who have access to your home. In the event that something happens to you, medical personnel need to know you have pets at home who need care.
Start.  Now.