Houston's Best Pet Sitters: Preparing Your Pet for Disaster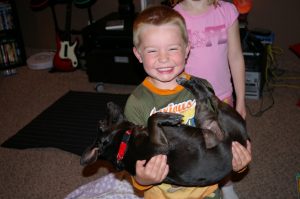 Can you believe it? It's been thirty-one years. Thirty-one years ago next Monday, Hurricane Alicia tore through Houston, leaving a mess you had to see to believe.  We lived in the Galleria then.  I remember walking down Westheimer with Bobby,  just after the storm.  I had never seen that street empty, day or night.
Filling in for one of our Galleria pet sitters recently, I found myself in the neighborhood where we lived all those years ago, long before Houston's Best Pet Sitters. I was sitting in traffic, thinking uncharitable thoughts about Galleria traffic and about how weird it looked the only time I ever saw it quiet there.
Being a native Texan, I've been around for more than a couple of hurricanes. But many of our clients aren't Gulf Coast natives, and come from areas where their only experience with hurricanes is watching the news. They're not quite sure exactly what to do or how to prepare. So, for them–and for those Texans who may have gotten complacent–Houston's Best Pet Sitters offers a starting point for building a disaster preparedness kit for your pet.  The SPCA recommends having ready:
Molded plastic pet carrier, one for each pet
Copy of your pet's rabies and vaccination records sealed in a plastic bag
Pet first aid book and kit
Two-week supply of pet food
Bottled water
One-month supply of your pet's regular medications
Non-spill food and water bowls
Cat litter
Cat litter pan
Leash
Plastic bags (for pet waste disposal)
Sheets (one to cover each pet carrier)
Blankets
Non-electric can opener, if your pet eats canned food
Newspaper
Disinfectants
Paper Towels
Comb/Brush
Here's to a quiet hurricane season!
If you live in the Galleria area, or in zip codes 77024, 77027, 77031, 77056, 77057, 77063, 77074, and you're looking for the best pet sitters in Houston to care for your furry friends, we'd love to help out.  Call 713-498-5934 or email m.whitman@houstonsbestpetsitters, and we'll be happy to check sitter availability for you.